---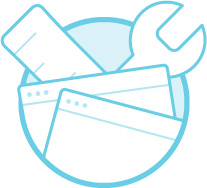 We will Be back Soon
We're working hard to make this page better than ever!
Undergoing Maintenance
The Product Page is undergoing massive maintenance — to make it the BEST ever!  Stay tuned, and thank you for your patience.  As always, you can find complete product information at www.ioselect.com.
Feature Updates
The new Products page will have more features, more content, and be easier to navigate than ever before.
Bug Fixes
OK, so we found a few 'inconsistencies' ….  no need to call them ' Bugs', we prefer 'Enhancements'.